Phil Lucas's Speech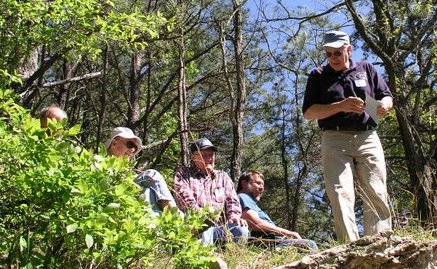 Phil Lucas speaking at the Nicholson Entrance "presenting" the bronze plaque.
All discoveries are preceded by a sequence of events
I'm going to pull together those events, those things, those people that ultimately led to the discovery of Butler Cave, one of the most significant caves in Virginia and in the US.
To begin, the Burnsville Cove, the valley from Burnsville down to the river was much then as it is today – very rural with mostly farms and forests. This spot here was open pasture land – there were no trees except for that old snag of an Ash Tree down there. Fifty years ago, it was in its prime. The roads have been paved but mostly everything looked pretty much the same as it does now.
Not much was known about caves around here but that was about to change in a big way. The catalyst for that was the Burnsville Saltpeter Cave used for saltpeter mining during the Civil War. This was a huge cave thought to be the biggest in Va. having about 3.5 miles of passages. Its name got changed to Breathing Cave when it was discovered that it breathed with inflowing and the out-flowing air currents. People from all over would come to explore Breathing Cave. It was because of Breathing Cave that an interest in finding more caves in the Burnsville Cave began to develop.
Now I need to talk about people and those folks who called themselves cavers. The NSS was a youthful organization in the fifties. There was an early NSS cabin along the Bullpasture Gorge where cavers would congregate. But there two cavers would saw the potential for finding a big cave were Ike Nicholson of Maryland and Oscar Estes living in Staunton. Ike lived in Maryland and Oscar in Staunton. Oscar and Ike were good friends and caving buddies and they were on a mission. Oscar talent was people and he made many contacts gaining information about caves. Ike was the organizer, the dreamer of what might be, and the scout checking the ridges and valley for leads. They were a great team. When Lockridge's refrigerator spring was dived and Aqua Cave discovered – the hunt was on to find where all that water was coming from.
Some of Oscar cave explorations had been with two young men that lived near Burnsville; Tommy Burns and Jimmy Puffenbarger. Oscar knew that landowners knew were well acquainted with their property and whether there were caves or possibilities of caves. So Oscar asked Tommy and Jimmy to keep their eyes and ears open for caves. And so it was that in the spring of 1958 that Jimmy and Tommy were sitting on the porch of the store in Burnsville when they saw Oscar driving by in his jeep station wagon. One of those guys, Tommy Burns, is with us today and so Tommy, tell us about what happened next.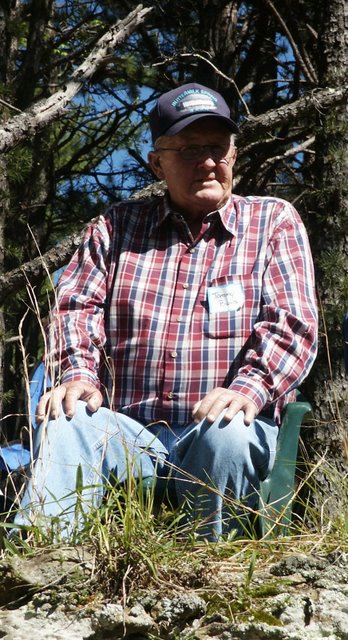 Tommy (Emory) Burns then explained how he and Jimmy Puffenbarger took Oscar Estes up to the Butler Farm and up the hillside to where they had seen the blowing hole coming from beneath a limestone ledge. He said that Oscar crawled into the cave a short ways until he came to the top of a pit. He dropped rocks down to estimate the depth of the pit. Not having come prepared that was all they could do that day.
What exactly happened next is lost to history but I think the conclusion is inescapable that Oscar quickly told his caving buddy Ike about this new pit and the first opportunity for Ike to check it out was Memorial Day Weekend. Oscar being an X Navy man was probably taking part in some aspect of Memorial Day celebrations back in Staunton. So Ike following Oscar's directions finds the cave and after descending the pit finds a nearly choked fissure too tight to get through but blowing air. He quickly determines that he needs help. So he goes back to his cabin along the Bullpasture River and secures two young volunteers and they go back up to the cave that afternoon. One of those young men is Donnie Miller and he is with us today. Donnie tells us about your efforts that day.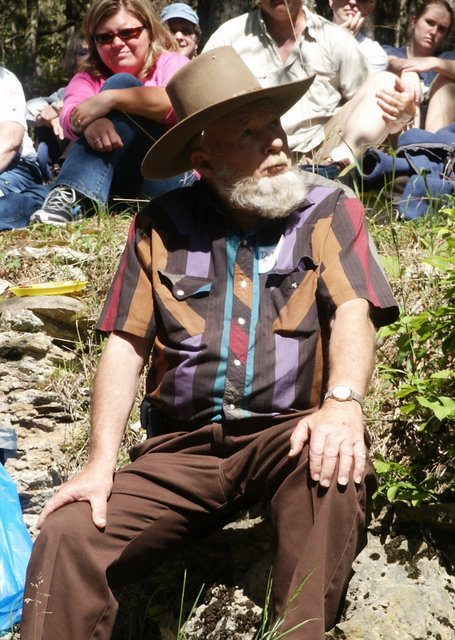 Donnie Miller explained how Ike had come down to the Roller cabin excited about the cave and asked for help in digging to try and get through the fissure. He explained that he agreed to go and later that day the fissure had been opened to the extent that he could wiggle through. Donnie then said that he went some distance into the cave and that it got bigger so he finally decided he had gone far enough and crawled back through the fissure.
So they retreat from the cave and it is nearly two weeks before Ike returns with his two son, Mike and Dave for an exploration trip. Mike is here and I'm going to ask him to describe his memories of that first cave trip.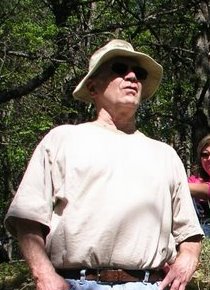 Mike then explains that they went through the fissure (now called the Glop Slot) and down the steep slope into the first big room in the cave. They then went through the window in the Window Ledge and explored a lot cave passage in the Sand Pit area of the cave. He then told a little about subsequent trips including one where he fell from a climb on top of his brother Dave when a rock had broken cutting his brother's forehead. Tommy Burns suddenly exclaimed that he had been on that trip and remembered the accident. Mike went on to explain that his brother was not badly injured.
And so with this it was realized that an immense cavern had been discovered. Later that summer, a week long expedition further reveled the huge size of the cave. Even though we are fifty years down the road, discoveries are still being made in Butler. Just last year a "new Species" of crustacean was found. And so with this fifth anniversary the BCCS has placed a bronze plaque to commemorate this occasion. I will read what is written on this plaque.

Here, on May 30, 1958, a small digging party led by Ike Nicholson dug
into Butler Cave, now recognized as a National Natural Landmark. Ike and
his friend Oscar Estes had surmised that a large cave existed in the area.
That spring, two local boys, Tommy Burns and Jimmy Puffenbarger, showed
Oscar the blowing hole on this ledge. He removed a few rocks and found a
pit. On Memorial Day, Ike's party descended the 35-foot shaft. At the bottom
they dug through a narrow slot and Donnie Miller entered the vast cave that
had been predicted.


Placed by the Butler Cave Conservation Society, 2008.